Date: 2014-05-06
Valued Lucky Craft fans,
With regret we want to inform you that there are fake copies of some Lucky Craft models. You can see those on the internet as well as in the retail network.
Please note that the action of the fake lure is far away from the original one as well as its internal rattles, no suspending action at all and does not allow you distance when casting.
Bellow you may see the original and the fake as well the differences between: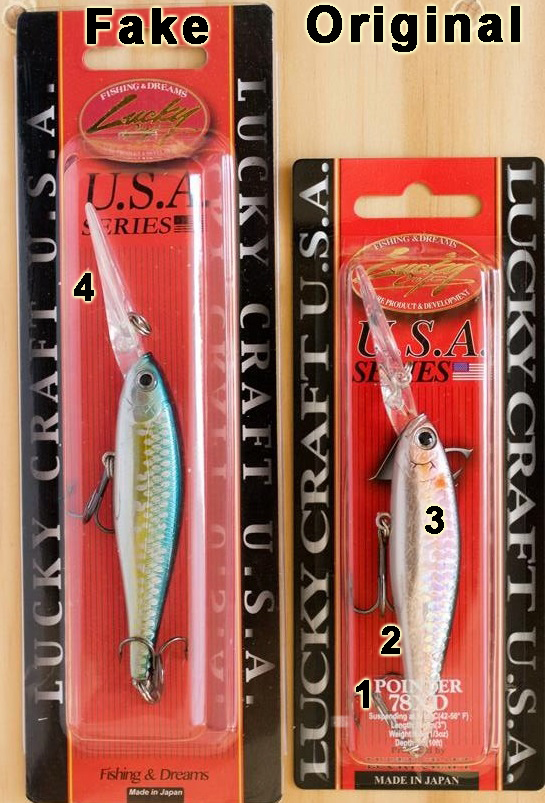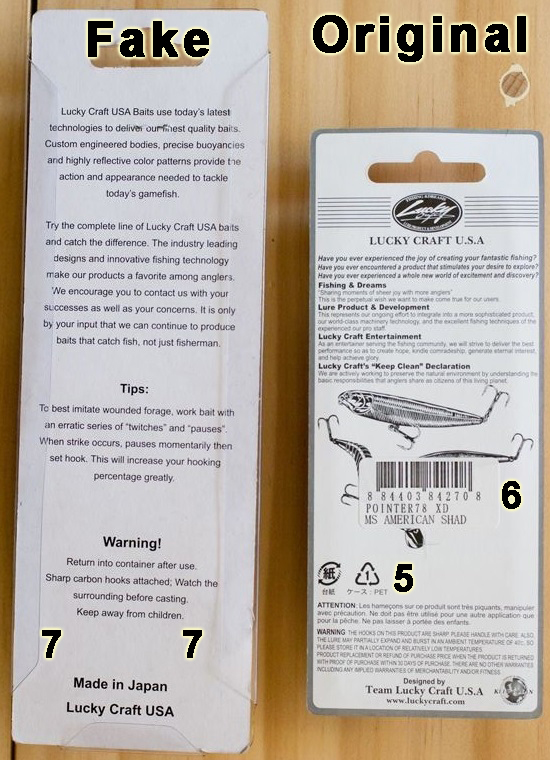 On the above photos the right lure is the original.
Please find below the major differences and guidelines how to differ them:
1. There is information about the lure model, its size, diving depth and weight on the front side of each original package;
2. Every original lure has a stamp on its belly with the name of the model;
3. The MS (Metallic Scales) on the original lure are holographic 3D cover over the lure surface and the fakes are just with some paint to get that effect;
4. Lips of the fake lures brake up easily and the result after fighting a good fish or snag is just a lip at the end of your line :)
5. Every original package has text in English, French and Japanese on its back;
6. Each package has a barcode of the product and the specific color above that barcode;
7. The original packaging will not allow you to take the lure out without ripping it and the fake one is just a plastic cover on a cardboard.
The main reason for buying fake lures is being misled by sellers or its price, but the price should be the red light when buying Lucky Craft lures, if it is too low to be true :)
Buying Lucky Craft is not just spending few additional bucks for a Japanese lure. You pay for quality, years behind the name and hundreds of hours testing as well as care and attention in crafting. All of those just to make your fishing dreams become real :)